What an exciting time it's been for UK player "d5t6y7", who took down this week's $109 buy-in, $100K GTD Mystery Bounty Main Event. And, not only did they bag first place, but they also took home the top bounty of $10K!
Coincidentally, back on 17 April, "d5t6y7" finished 10th in the same event and claimed the $10K bounty as well!
It all went down in the final hand of the tournament when "d5t6y7" busted their heads-up opponent to reveal the surprising $10,000 Mystery Bounty ticket.
WATCH the final hand action below:
The event attracted 785 players who rebought 180 times. The $100,000 prize pool was split between the mystery bounty and regular prize pools, with the top 144 finishers getting a piece of the latter.
Among those to make relatively deep runs were the following players –
"Vismo2713" (90th place for $135 + $3,241.64 in bounties)
"Dixon6hrsSet" (76th place for $135 + $1,223.32 in bounties)
"frostnova" (62nd place for $140 + $1,081.66 in bounties)
"bowladay" (29th place for $200 + $1,681.66 in bounties)
"vqenjm" (11th place for $570 + $1,449.96 in bounties)
When the tournament reached the final table it went on an overnight break, Uzbekistan's "KJJIDIele" lead the pack with 3,490,257 while Romania's "juncanaru98" wasn't far behind with 2,977,469.
Others with seven-figure stacks were the UK's "d5t6y7" (2,076,171), Brazil's "p1uzera" (1,607,426), Ukraine's "Freedan" (1,430,124), and Belarus' "ladutska" (1,098,637).
On the other end of the spectrum, Brazil's "SeiryokuZen" (997,852) and Montenegro's "Adhmor8" (665,763) were on the shorter side of things. But it was Brazil's "DiouL2" as the extreme short stack with just 131,301.
When players returned on Monday to play down to a winner, it was only fitting two of the big stacks made it to heads-up play. "KJJIDIele" ultimately fell to "d5t6y7", who also claimed the $10,000 top mystery bounty.
All told, "d5t6y7" walked away with $18,129.96 in prize money.
Despite not winning the tournament, "KJJIDIele" did receive $5,645 as runner-up plus $5,126.64 in bounties for a total payday of $10,771.64.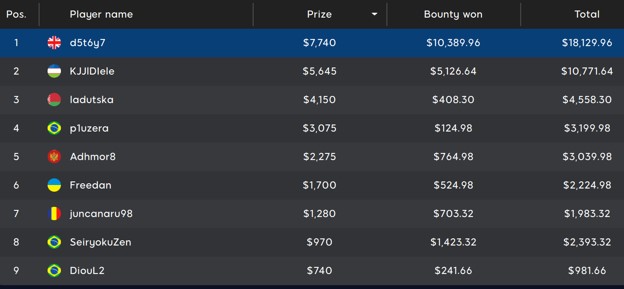 888poker Regulars Battle in New Mayhem 55
Sunday also played host to the new $55 buy-in, $1,500 GTD 6-Max Mayhem 55. The event drew 32 players who rebought eight times. That created a $2,000 prize pool for the top four finishers.
After "Docari" bubbled in fifth place, "r0isin" exited in fourth for $200 followed by "rama4y20" in third for $300. That left 888poker regulars "kiskutya23" and "algsxr" to duke it out in heads-up play.
And after just over three hours of play, the former prevailed to the tune of $900.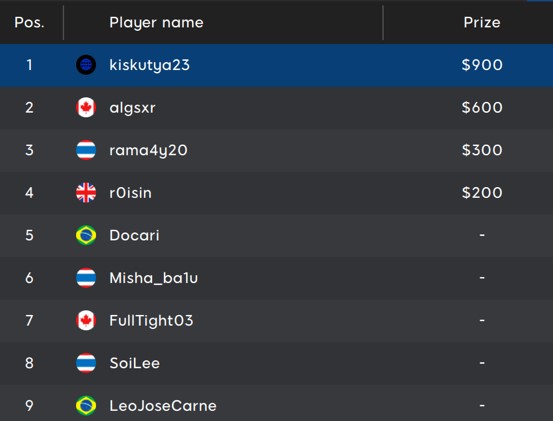 Lithuania's MugenChmploo Wins Early PKO Rumble
On Monday morning, the $109 buy-in, $2,500 GTD Early PKO Rumble 8-Max 109 took place. A total of 18 players accounted for a single rebuy, which meant the regular portion of the $2,500 prize pool was paid out to the top three finishers.
There were bounties up for grabs and some players to make some money via that route were the following –
"GERSON1986" ($50)
"Johnsonsb4be" ($25)
"FabioEiji11" ($75)
"Happynose" ($25)
After "WalnutPix" bowed out in third place for $310, the final two players each locked up $620 in prize money but battled for a $675 PKO bounty.
After just 2 hours and 13 minutes of play, it was Lithuania's "MugenChmploo" defeating the UK's "bluffing420s" to win the tournament for a total payday of $1,295.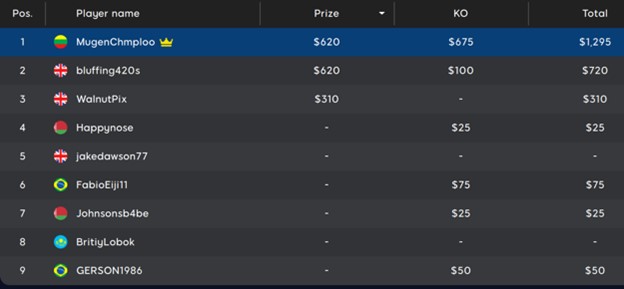 Mexico's BoyGoeswild Gets Job Done in PKO Rumble
Monday's $55 buy-in, $3K GTD PKO Rumble 8-Max 55 had 61 players rebuy 15 times, which surpassed the guarantee with a $3,800 prize pool. The top dozen finishers "made the money" including the following –
"s.totuli" (10th place for $47.50 + $146.88 in bounties)
"andywin2020" (6th place for $99.75 + $31.25 in bounties)
"Phil2010" (3rd place for $250.80 + $180.08 in bounties)
In the end, after nearly four hours of play, it was Mexico's "BoyGoeswild" defeating "BeHappyyy" in heads-up play to win the tournament.
They walked away with $443.65 plus a $616 PKO bounty for a total prize of $1,059.65.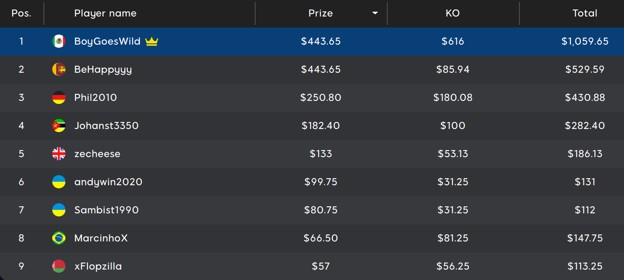 Denmark's Svinth Takes Down PKO Rumble 109
Finally, Monday's $109 buy-in, $7K GTD PKO Rumble 109 cruised by its guarantee as 76 players rebought 17 times to create a $9,300 prize pool. The top 15 finishers got a piece of the regular prize pool including the following –
"Savchenko1." (10th place for $109.27 + $231.25 in bounties)
"sankovski" (4th place for $397.57 + $212.50 in bounties)
"d5t6y7" (3rd place for $546.37 + $500 in bounties)
Both "Svinth" and "jatekos22" locked up $1,058.80 in prize money by making it to heads-up play.
After 4 hours and 39 minutes of play, it was Denmark's "Svinth" coming out on top to win a $1,920.31 PKO bounty as well for a total of $2,979.64 in prize money.