Updated on March 27, 2023
For 50 years the World Series of Poker (WSOP) has attracted the best poker players in the world to Las Vegas. It's morphed from a small gathering of mainly Texas road gamblers at Binion's Horseshoe to catering to hundreds of thousands of players at the Rio All-Suite Hotel & Casino just to be back to its roots at the Horseshoe (former Bally's), where it'll take place in 2023 alongside the Paris Las Vegas.
Those attending for the first time might find the colossal spectacle to be intimidating, but we're here to pass on some valuable wisdom that'll help you navigate the WSOP.
Table of Contents
Remember to Bring Your ID
In order to play poker, you'll need a valid photo ID, be it a passport, government-issued ID, driver's license or, for US residents, a permanent resident alien card will do the trick as well.
You may get carded when you enter the casino floor or try to order alcohol, but even if you don't, you're going to need an ID to get a Player's Card, something you'll need to play ANY WSOP event.
Get a Player's Card
Speaking of that, to register for any WSOP poker tournament – which includes non-bracelet events like the daily deepstacks – you'll need a Caesars Rewards Loyalty card.
The good news is they're free and easy to get – just visit any Caesars Entertainment Properties in the U.S. or head to the information/rewards desk at the Paris. You can also visit the online Caesars Rewards site to create an account in certain jurisdictions.
A valid Photo ID will get you a Caesars Rewards Card in less than 5 minutes.
They'll also send you offers from time to time, and they have a Caesars Rewards app that'll help give you the most bang for your buck.
Find the Registration Line
When you're ready to register for a WSOP event, simply take your ID and player's card to a registration point, along with the buy-in amount of course (credit cards are allowed from May 31st once the WSOP Cashiers Cage opens, as are cash, live Casino Chips, Cashiers Check and wire transfers (5 day waiting period for checks or wires) and satellite "lammers").
The main registration is located near the tournament area, and you just need to follow the signs. You can also register for WSOP events at the casino cage up on the Champagne Ballroom in the Paris convention center "Le Centre des Conventions".
If you're looking to play a tournament that's sure to draw a lot of players – such as the record-breaking Big 50 – the lines can get quite long. If you want to avoid them, consider pre-registering for the event days in advance.
Also, if your schedule allows, consider visiting registration late at night or in the early morning hours as there tends to be a lot fewer people about at those times.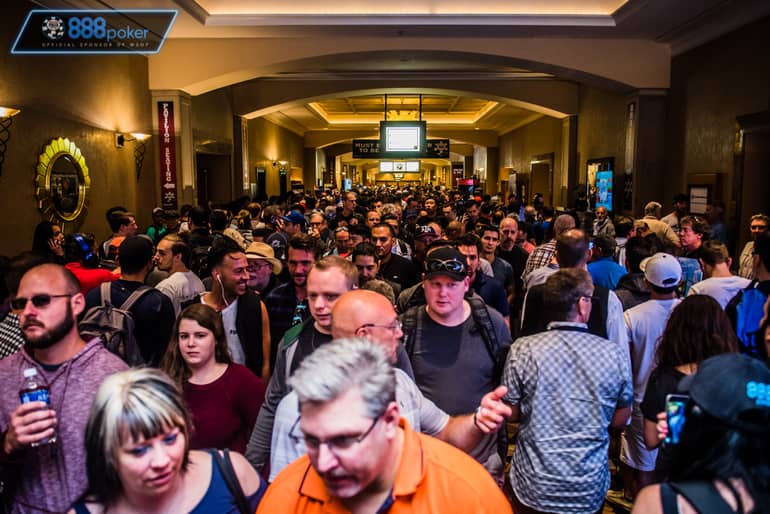 Find and Head to Your Seat
Once you've registered you will be given two slips – one is your copy, and the other goes to the dealer – that indicates what room you'll be playing in as well as a table and seat assignment. The WSOP has made things easy by colour-coding sections.
For instance, if you're assigned to play at Table 88 Seat 8, your ticket will have a corresponding colour such as "Blue". Go to the room and simply look at the coloured signs hanging above each table to track down your seat.
When you find it, the dealer will ask for their copy and your ID to ensure you're actually the player listed on the ticket. Once verified, they'll give you a stack of chips, and you're in action.
If perchance you late register a tournament, your slip may indicate that you need to visit a late registration desk. In that instance, you just go there, get verified, and the attendants will assign you a random open seat.
Plan Ahead Accordingly
Every WSOP tournament has breaks, usually every two hours, and many a dinner break as well. The best way to learn when they are is to pick up a structure sheet, which is available both online and in print form. The bathrooms are jammed packed during breaks, so it's never a bad idea to head to break a couple minutes early to beat the rush.
Likewise, if there's going to be a dinner break, you'll want to figure out how much time you have and where you'll go. If it's inside the Horseshoe or Paris plan for things to be busy, and if you go off property expect to encounter traffic. You also don't want to stray too far as the further you go, the higher the risk of returning late.
If you're driving to the WSOP event(s) you're playing, you'll be happy to know there are two major parking facilities available:
The Paris Las Vegas Parking Garage
The Horseshoe Parking Lot (located directly behind Horseshoe's off Koval Lane).
Valet services will also be available at the main hotel entrances of both properties.
And if you're planning on staying for more than a week, you may buy a weekly parking pass at the WSOP Main cage for $100, which represents a discount of about 40% over standard rates.
Just plan accordingly, and you should be fine.
Always Have Fun
Playing the WSOP, be it the Main Event or a preliminary tournament, is the dream of thousands of poker players around the world. If you're fortunate enough to be competing, enjoy the moment. Sure, encountering a pro like Martin Jacobson, Chris Moneymaker or Daniel Cates at the table can be intimidating, but don't let that stop you from having fun.
Strike up a conversation as you never know who you'll meet. The WSOP really is chock full of players from all walks of life. You might also consider ordering a drink, which many players do in the last level of the night (aka Beer Level) before bagging and tagging.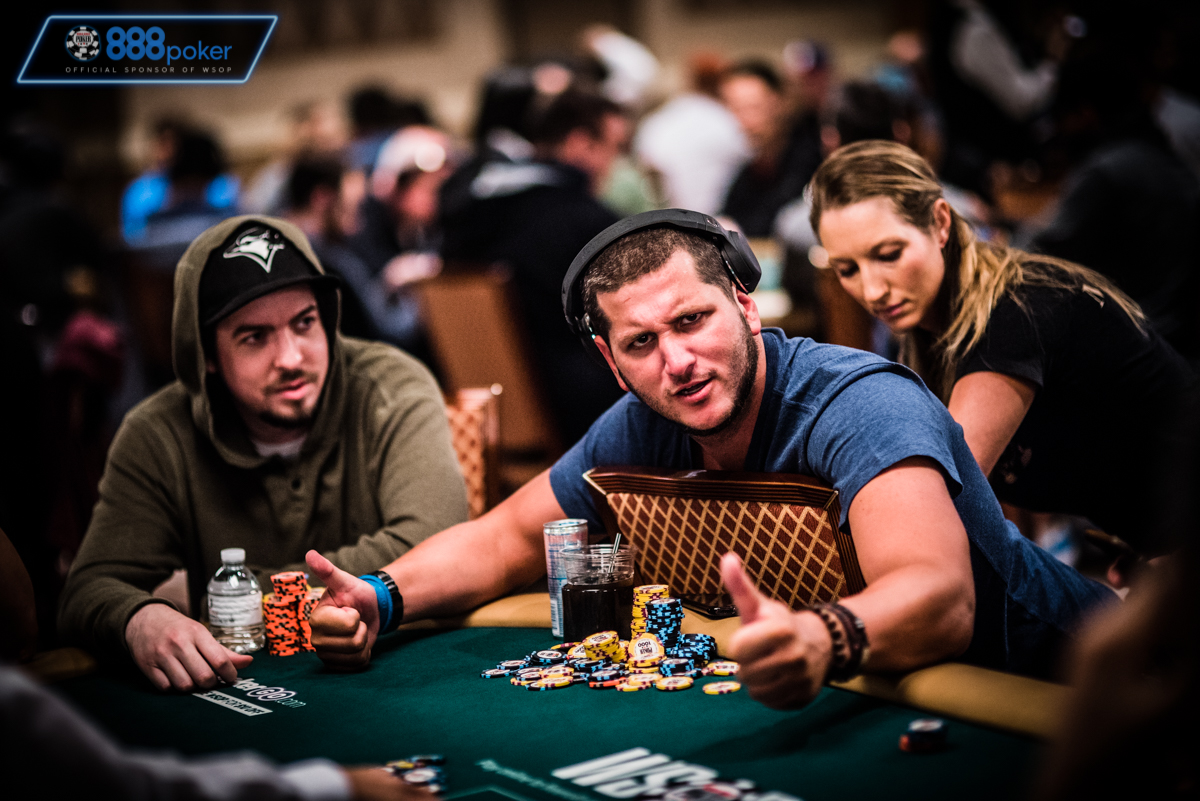 Winning a Coveted Bracelet
If all goes according to plan, you'll be the lucky winner of a coveted gold WSOP bracelet, but what happens after that? While you're in shock and celebrating, you'll be asked to sit at the table to take an official WSOP winner's photo. That photo will be used by news outlets around the world. Speaking of which, members of the media will request a few minutes of your time to learn more about you and your win. This moment is the time to tell your story.
After, a member of the WSOP staff will coordinate a bracelet ceremony for some time over the coming days (usually the next day). Not everyone wants a celebration, but if you accept, you'll be publicly recognised by tournament director Jack Effel on the first break of play. There will be lots of love and applause.
After you're finished with the media, you'll be escorted to the payout desk to collect your prize. You can get it in cash or chips, but the smart move would be to either take a check or have it wired to your bank account.
Also, this will be your opportunity to leave a tip for the dealers, who work hard all summer long. While tipping is not mandatory, it is encouraged. If you want to tip there's no hard and fast rule, though many players keep it in the 3-5% range.
Hopefully, these tips will come in handy when you head out to Las Vegas to compete in the World Series of Poker!